Click "SHOW ALL" ON THE RIGHT HAND SIDE TO VIEW ALL STORIES
POSTED |
November 3, 2016 - John Edwards/Metroland
Collingwood's Door still serving youth despite move from youth centre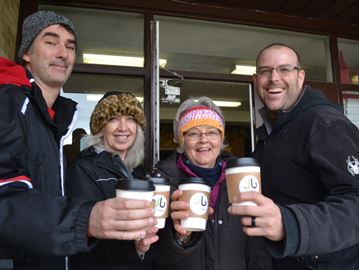 The Door Youth Centre is no longer operating at the Collingwood Youth Centre, but director Aaron White said they are still serving the community.
"We decided we would move on," he said. "There was two separate visions for what was going on there."
White said they are currently looking at space near Collingwood Collegiate Institute and will be operating their drop-in program on Fridays at New Life Church.
The organization has been operating its Coffee Club program at Collingwood Evangelical Missionary Church. The program runs on Tuesdays and offers coffee and hot chocolate to high school students.
White said this gives them the opportunity to interact with more youth.
"There are lots of new youth we see here," he said.
White said leaving the youth centre gives The Door an opportunity to re-group and look at more ways to serve youth.