Click "SHOW ALL" ON THE RIGHT HAND SIDE TO VIEW ALL STORIES
POSTED |
November 23, 2015
Milkbags Turned Into Mats
Waterdown Girls Help Overseas Clinics
Waterdown girls transform milk bags into mats for overseas medical clinics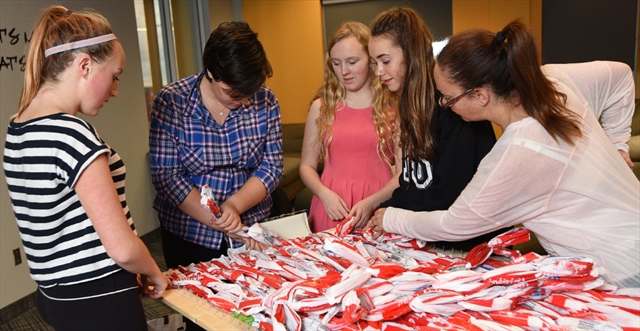 Hamilton Spectator
By Natalie Paddon
It started with more than 1,000 empty milk bags.
Woven together by Grade 7 and 8 girls in Waterdown throughout November, the bags have been transformed into two mattresses to be used in medical clinics overseas.
Youth for Christ/Youth Unlimited's iMatter girls club — a faith-based drop-in group for preteens — took on the project this school year at the suggestion of volunteer Lisa Proctor.
This month, the usual Wednesday afternoon gatherings have been filled with sorting, cutting, folding, weaving, tying the five-and-a-half-foot sleeping mats and taking them off the loom.
Read the full story